Ladybug Lin is at it again...reviewing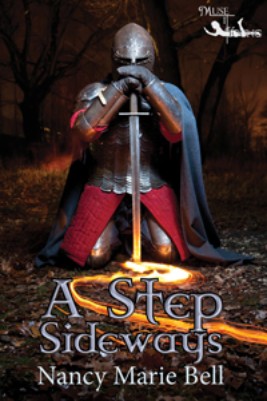 A STEP SIDEWAYS by Nancy Marie Bell.
I must admit I fell in hunger for this book the minute I saw the cover. I knew I would be pursuing it. Luckily the cover honors the story very aptly.
This is book two in Ms. Bells' THE CORNWALL ADVENTURE SERIES...with
LAUREL'S MIRACLE being Book One.
Book One focuses primarily on the adventures of children. This one continues with most of the children from Book One, but briefly. Gort the hero of this story steps into a world beyond his imagination after he is brutalized to within an inch...maybe...of his young life.
Gort rises from
his bleeding shell into the life of
Sir Gawain, one of the Knights of
King Arthur's realm and an adventure beyond Gort's wildest imaginings.
I am a fan of Arthurian England. From the time I was little I played and replayed the Broadway album of Camelot until I think I wore it through and through. I imagined living aside Arthur, his knights and the pagentry of Camelot...
This is NOT a feel-good Broadway musical...it IS an adventure so realistic I expected to see
Merlin popping out of my
Kindle taunting me about my eagerness to follow Gawain and his trusty war steed, Ailim.
I LOVE this story even though I am an adult and it is geared for the young readers.
Guess I'm younger than I thought. (wink, wink)
I KNOW this is not the last book in this series...thankfully.
One thing missing from so many of our lives is
MAGIC...but Ms. Bell gives us MAGIC in abundance.
Ergo..I happily give this book
FIVE magical stars and am eagerly looking forward to more.
Ms. Bell's books can be found via www.museituppublishing.com , Amazon.com and everywhere excellent e-books are available. Her first in this series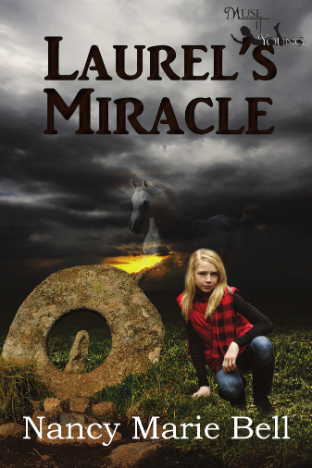 LAUREL'S MIRACLE is also available in print along with a teacher's guide book.
Ms. Bell can be followed on her website.